I watch all kinds of movies, which likely comes with being a movie buff for as long as I can remember. One genre that guys usually don't want to watch is the Chick Flick. It's a term we give to movies that synchronize with a girl's heartbeat. I knew a girl once who loved watching chick flicks just so she could cry and I thought, "Why didn't she just go peel an onion?" Whatever the reason may be, it will always remain a mystery to those of us with high testosterone levels.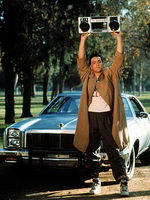 But I do watch this particular genre from time to time and not all of them are bad. We have to keep in mind, however, that there are two kinds of chick flicks: love drama and romantic comedy.
And so I figured it'd be fun to see which movie would come out the winner if they were to battle against each other. Here are just some of my selections, if I accidentally left out any particular film that's close and dear to your heart, just give a shout out in the comment section.
Now remember: I haven't revisited some of these movies in a long time, so let me know your opinion.
SAY ANYTHING Vs. MOONSTRUCK
Points for Say Anything: That shot of John Cusack holding up a radio is timeless. Only he could pull that off. Not to mention having Cameron Crowe wrote the story is an added bonus.
Points for Moonstruck: Watching Cher and Nicolas Cage locking lips may be disturbing since in real life their ages are like 20 years apart. But this movie's got passion and excellent comedic timing. You'd get so spellbound that you're gonna need Cher to slap you across the face and yell, "Snap out of it!"
* And the winner is… MOONSTRUCK
GHOST Vs. PRETTY WOMAN
Points for Ghost: One word, Demi Moore… that woman could make ghosts fall head over heels. This movie is the Queen of sentimental.

Points for Pretty Woman: Do you know how much this movie has left a print in audiences' memory all around the world? Tourists flock to Rodeo Drive not to shop, but to see firsthand the places they saw in the movie.
* And the winner is…. GHOST
TITANIC Vs. MOULIN ROUGE
Points for Titanic: That whole last scene where the ship breaks in half as it sinks is pretty cool. Kate Winslet still proves that girls don't have to be skinny to be beautiful.

Points for Moulin Rouge: I have to be honest: I'm a sucker for awesome music and visual treats — and this movie's got both. The song "Come What May" has got to be one of the greatest loves songs ever written.
* And the winner is… MOULIN ROUGE

NEVER BEEN KISSED Vs. MY BIG FAT GREEK WEDDING
Points for Never Been Kissed: Wild-in-real-life Drew Barrymore managed to be convincing as a loser on the screen so much so that we wanted her to get lucky already.

Points for My Big Fat Greek Wedding: Ah, yes! Traditions, culture, love between two lovebirds, and an endless string of hilarity in between. A funny take on the good ol saying, 'When you marry her, you marry her family too'.
* And the winner is… MY BIG FAT GREEK WEDDING

BEAUTY AND THE BEAST Vs. SERENDIPITY
Points for Beauty and the Beast: Belle is my favorite Disney character cause she's the smart one, she likes to read. There's just something about nerdy girls that turns me on, maybe because they're actually wilder than they look, it takes a passionate beast to deserve them.
Okay, where was I?
The fact that so far, this is the only animated film to have ever gotten an Oscar nomination for Best Picture speaks a great deal about this movie.

Points for Serendipity: Kate Beckinsale, of course, and the fact that the storyline gets us believing that maybe, just maybe this whole thing with fate and destiny and following what your gut tells your heart to do and let things happen if they're meant to happen might just work.
* And the winner is… BEAUTY AND THE BEAST
YSN member and movie aficionado Rama Tampubolon runs the movie review and discussion blog, Rama's Screen, and was featured in "United 300," which won for "Best Spoof" at the 2007 MTV Movie Awards. He'll discuss the latest hot topics and movie reviews every Thursday on Waste Time Wisely.